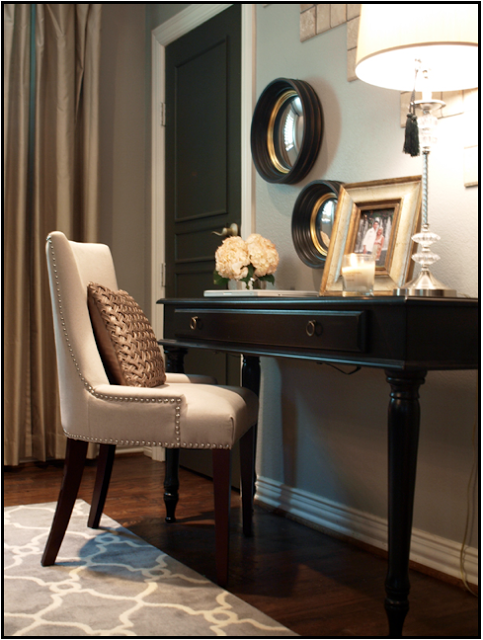 Many people will think I am crazy but I love interior doors painted black! Almost a year ago I painted the interior of my front entry door black semi-gloss and I have no regrets. It seemed like a big decision at the time, but now I wonder why I waited. For one thing it is only paint...but not one person has told me that they don't like it, and I love it!
Remember my friend, Louise, and her Cornwall condo? I wrote about her accessories last week and how they warm up the modern decor. For two years I have been suggesting that she paint the interior of her entrance door black, and she finally did it!  Well, almost...because of her concern about it being too dark and because she has charcoal wallpaper around the door, we chose a charcoal colour. The painter, Greg Brown, thought she was a little crazy...but once done he realized how rich it looks. No, it is not a big space but it adds presence and importance to a plain door.
So, for very little money she created a wow effect right in the entrance and is able to view it from the living room so it can be enjoyed all the time. This inspired her to move around her art and for next to no cost she has a whole new look!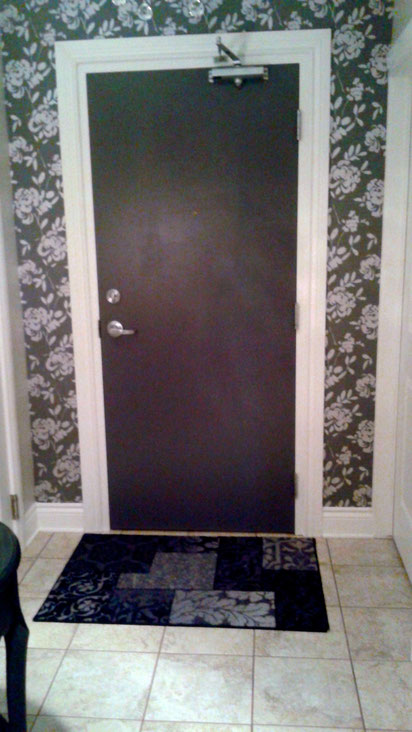 This is not really a new idea but we still see virtually all interior doors painted white or off-white to match the trim. About 6 years ago I agreed with a very clever client that her kitchen door would be awesome in black. I love the way it seems to suit many different decorating styles and also that it brings out black details in your room....ie picture frames, painted furniture etc.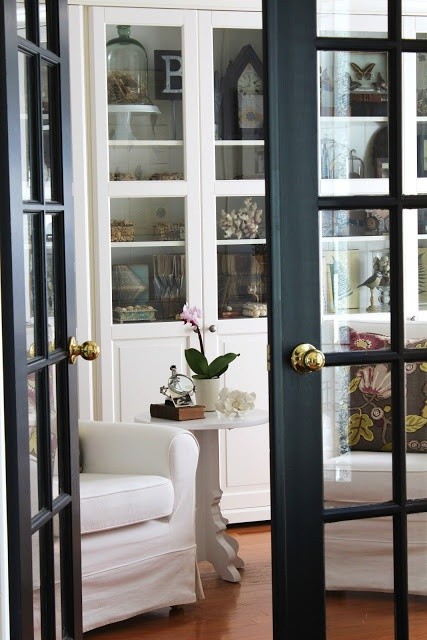 Very ordinary doors look special and more substantial when painted black. Many of us have regular builder's grade hollow doors with the 6 panels. However, I think all door styles look great painted black, no matter what the style of the home. I really like it with the door trim painted white or off-white to match the rest of the trim in the house. It frames the door. Black also looks gorgeous on french doors.
Well I guess its obvious how much I love black interior doors...I have only done one but I am considering another one at the top of my stairs. Not sure on that yet. What do you think? Do you love them too?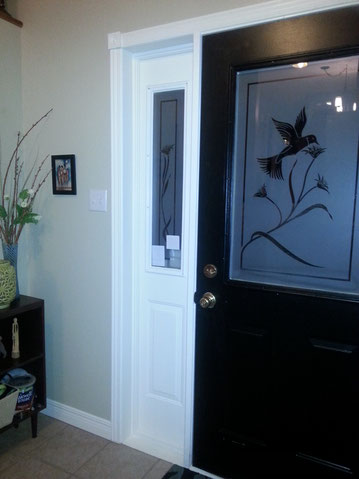 Of course, I can't forget about the use of other colours. Look at how my friend and client, Jackie, has used colour to brighten up a laundry/mudroom space. The brick red matches the red in the toile fabric of the roman shade...that fabric is repeated inside the washroom. What do you think....isn't it stunning?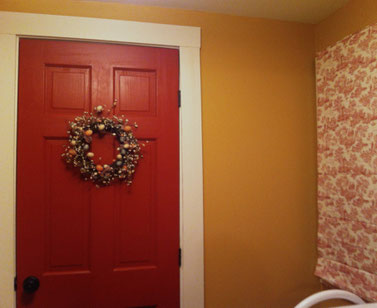 The moral of this story is do not be afraid of black or other colours on doors....I hope you agree that these look amazing! Paint is easily changed if you get tired of it, but for now...go for the wow. Black doors, in particular, are not a passing trend. As I mentioned in my blog, 2015 Colour of the Year, black is not just a background colour anymore. Have fun!
Many of you will have seen my ads on Facebook for the ongoing contest.  So far 6 people have thrown their hat in the ring to win an hour of decorating consultation services.  Thanks folks, your odds of winning are fantastic! 
If you haven't entered yet, there's still time, the contest ends March 31st.  I bet most of you have a trouble spot at home you'd like some advice about. When you enter, you'll be signing up to receive updates of my blog.  You can also greatly improve your chances of winning if you share this contest with your friends.  Click here to enter!