Do you feel down when you put away all your Christmas decorations? The lights and Christmas decor add such a cozy element to our rooms...sometimes it just feels so bare afterwards! Or, we are happy to get them down and live with simplicity in our decor only to find that it looks boring and needs refreshing.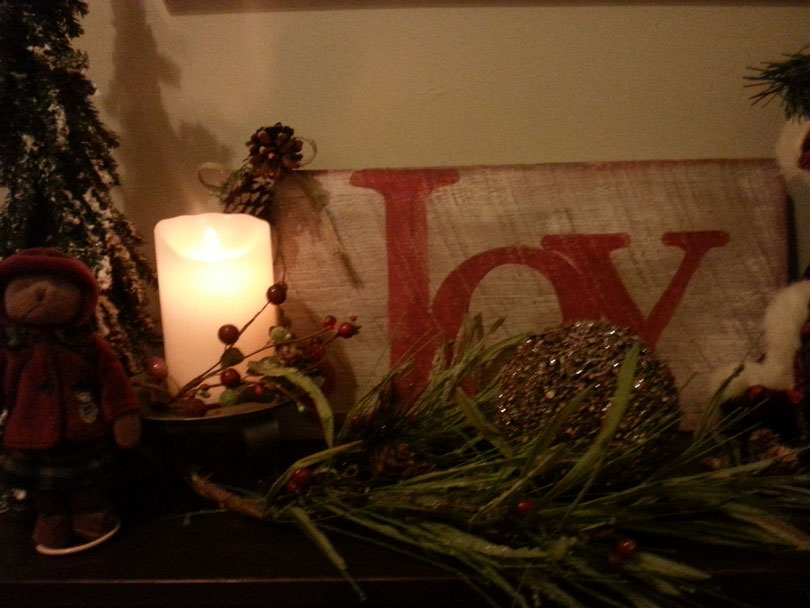 I confess I do this in a couple of stages. Everything that is truly "Christmas" comes down first but I like to leave a few winter decor items and lights or extra candles. I especially like this battery operated Real Lite candle at my entrance, it is timed to come on at 5 pm this time of year. It is so cheery if I am just getting home or someone is visiting...and it is so realistic. I have it grouped with some faux greenery, a rustic sign and some snow covered evergreen trees (faux, of course).
Last night I entertained some friends for dinner ...the theme was Soup and Sweaters. I love to do this in January after all the Christmas entertaining is done. I made two pots of soup. Guests brought sweaters that they are ready to say goodbye to and some canned goods for a foodbank donation. We shared wonderful fellowship, delicious warm soup and I now have 17 sweaters to give to the needy plus some badly needed canned goods for our local foodbank. It inspired my Mom to offer a money donation, as well as earning considerable attention on Facebook. A new trend?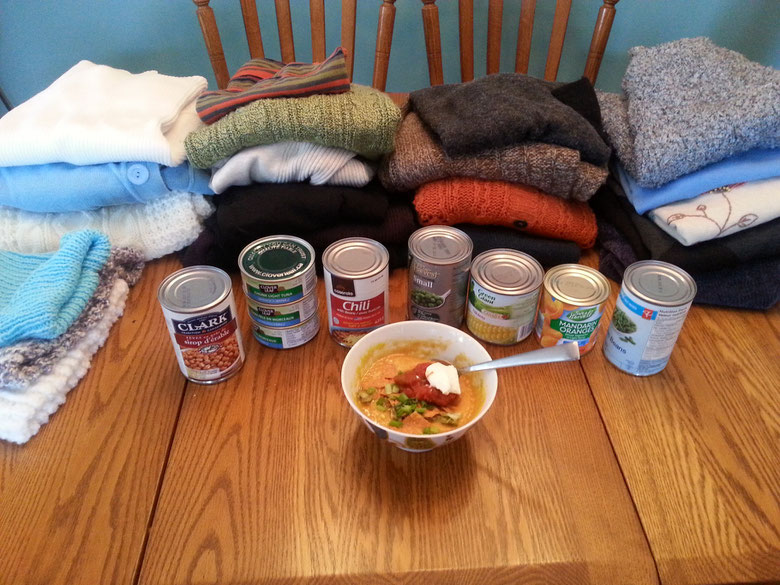 To refresh your home decor and your spirits bring in some fresh or faux flowers or greenery. Place it where you will see and enjoy it...At your entrance, on your coffee table or mantle, in your bathroom. I love to use faux orchids...they look so real! I have one client who inserts a faux flower stem in with her real orchid greenery as she awaits the new blooms.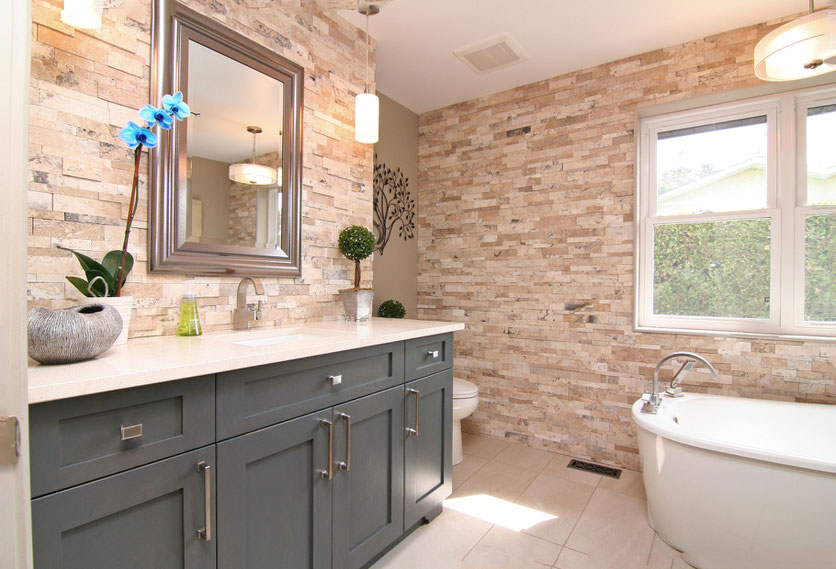 Accessories...move your artwork and accessories around, or put some away for a season. Perhaps it is time to invest in a new decorative piece...the January sales are pretty good! I wanted some brightness on my sofa so I picked up a mustard coloured throw. It would be awesome to display something in the new colour of the year, Marsala...a vase, cushions... See my previous blog entry for more on this.
Get organized... Every January magazine talks about this. As this can be very overwhelming, I suggest picking one thing to organize at a time. Hosting my Soup and Sweater party did prompt me to go through my closet and a cupboard. I found 4 sweaters that I do not wear, yet will be sure to be appreciated by someone else. What organizing tip do you have?
Paint...I have been itching to repaint my guest bedroom which is now  green. The bedding is neutral and I recently made these beautiful silk embroidered pillow covers in salmon and deep rose. I am feeling it will be very light salmon walls with an accent wall of a darker rosey clay. Choosing a colour scheme from a fabric is something I love to do and salmon colour is very on trend. Paint is one of the quickest ways to change the look of a room.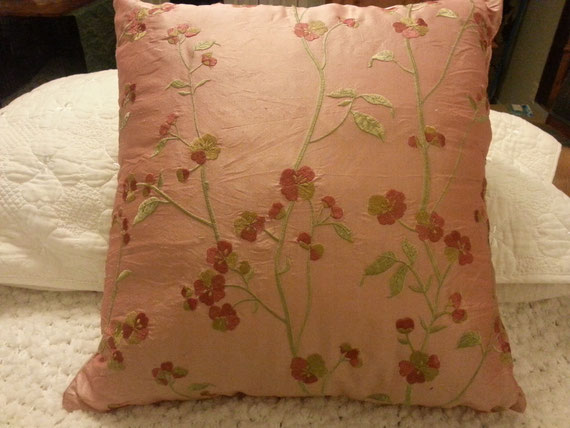 Reupholster a chair.  I reupholstered a chair belonging to my grandparents in a rich vintage looking faux leather. It is dark red and definitely makes a statement in the room and I like the mix of a classic vintage piece mixed with contemporary decor.  I bought a beautiful mahogany antique chair (it needed a lot of work) which I had reupholstered in an embroidered zigzag stripe fabric in beige and red with the back being in a brick red linen. Do you have a favourite chair begging for a new look?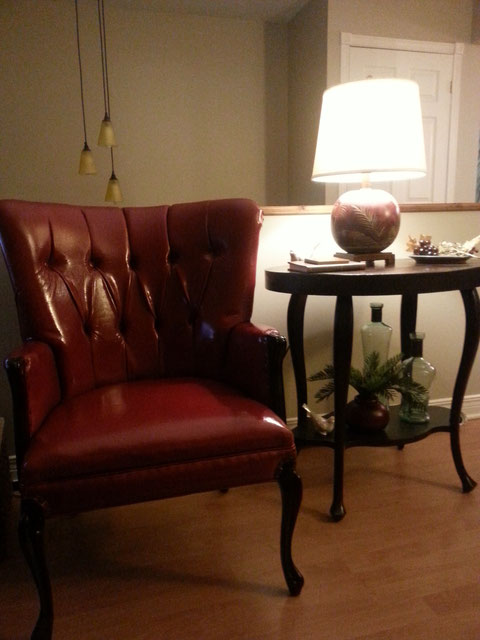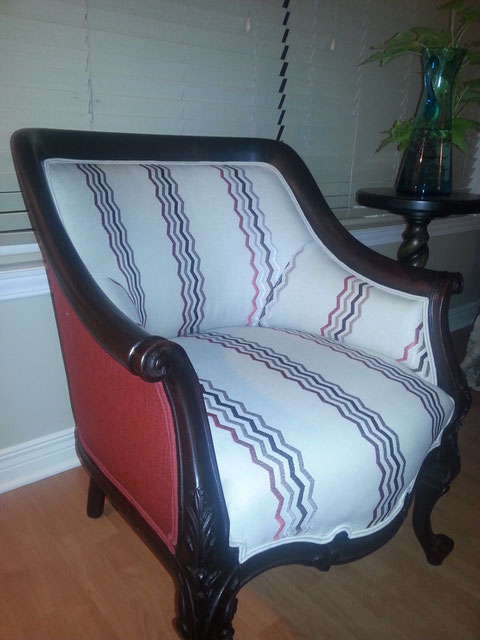 It is fun and refreshing to think of ideas for the home during our long winters. It brightens our homes and our spirits. What projects are you tackling? What are your favourite tips to help get through January? Comments below are always welcome.

There are a few days left for my New Year Promotion that gives you 10 % off a decorating consultation. Expires Jan 15th.
To receive my blogs to your in-box, sign up to be on the mailing list.