Do you need help deciding between the large array of products and choices in window coverings? I have worked in the window covering industry for 25 years and have seen a myriad of style and product options.  I will touch on some of the key points to help you make some decisions.

1. Do you need a lot of light control for your window?
If you have a North or East facing window you will likely be most concerned with getting maximum light. With a South or West orientation most people want a lot of control over the amount of light that comes in. Even with the new windows, too much sun can be damaging as well as hot.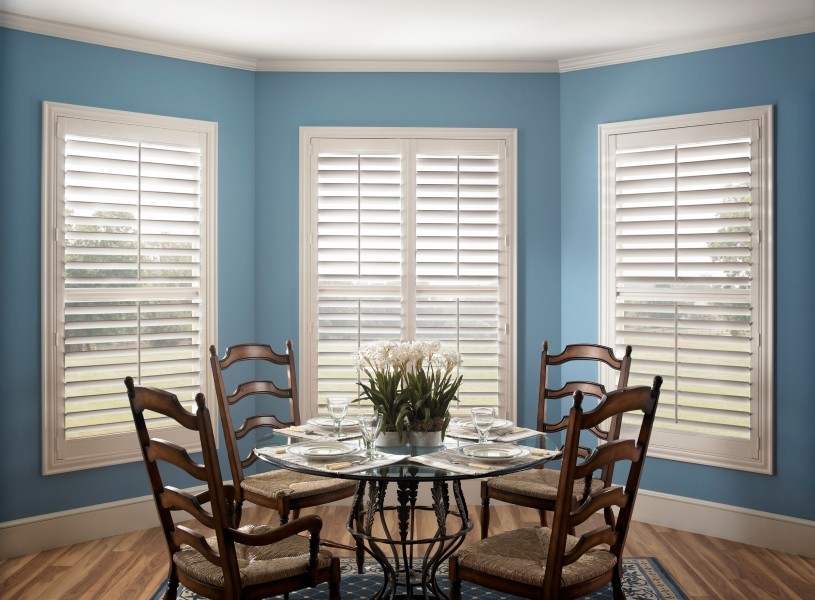 Plantation Shutters offer excellent control of light and are energy efficient. They open wide or tilt easily. I love the simple, clean lines and the many benefits of shutters. They fit virtually any decor and type of window. Today I recommended full shutters in a South-facing bathroom; the client wants lots of light as well as privacy so the option of the top 1/2 being split allows for the top to be fully open and folded back and the bottom to be closed or tilted for privacy. Plantation shutters by Eclipse Shutters are perfect for a bathroom as they will never be damaged by water. Check out a video highlighting all the benefits of Eclipse Shutters here, and learn about my current sale for up to 50% off shutters while you're at it.
A budget-friendly option is sheerweave roller blinds which are great for breaking the glare of the sun and also help with lowering the temperature on those really sunny days. The material is available in different degrees of "openness" and resulting UV protection. They are very easy to keep clean and are popular in kitchens, sunrooms and commercial applications. They have a simple continuous chain mechanism for raising and lowering the blind. (Tim Horton's has them so you don't have to sit in the full glare of the sun while enjoying your double double and donut.) Light still enters the room and the perforations in the blind allow you to maintain the view. Sheerweave roller shades are popular in a modern, stream-lined space or in a more traditional space with drapery added for softness.
Another option for light control is cellular shades...especially the top down, bottom up option. You cannot see through them but by dropping the top down you have more options. As these are a fabric shade, I see them a lot in living rooms, dining rooms and bedrooms. The blackout fabric option gives room darkening for bedrooms. Cellular shades (Hunter Douglas Duettes)  are super energy efficient because of the honeycomb design. They give a contemporary look when used alone, but dress up easily with drapery panels for a softer, transitional or traditional decor.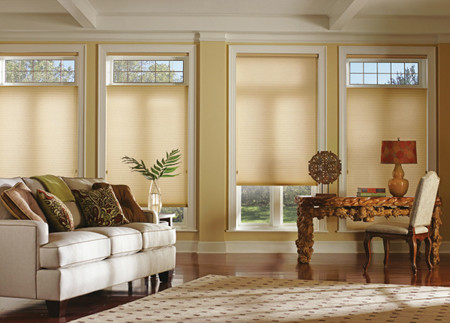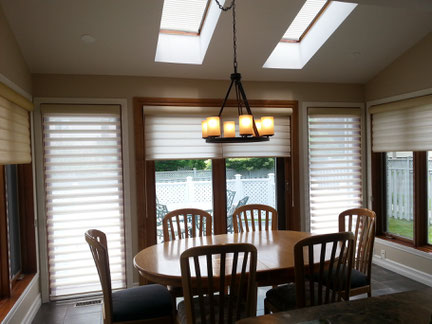 Silhouette and Pirouette shades by Hunter Douglas offer soft and beautiful lighting control. These shades have sheer fabric as well as heavier fabric vanes built in to them. They are great where you want to enhance or soften the amount of sun coming in and can also be closed for more complete sun control without darkening the room.

If your taste runs to drapery, semi-transparent sheers will allow light to filter through. Layered drapery gives even more light and temperature control...you can layer sheers with heavier drapery. Beautiful Roman Shades can be fabricated using a heavy or lightweight fabric. These are gorgeous alone or paired with side drapery. For a totally dark bedroom or home theatre consider lining your drapery with a blackout fabric. Remember to go past the window frame by at least 8 inches to reduce light seepage.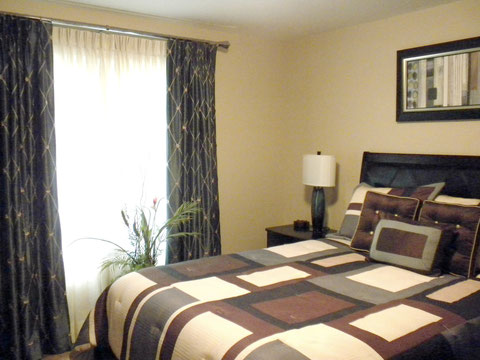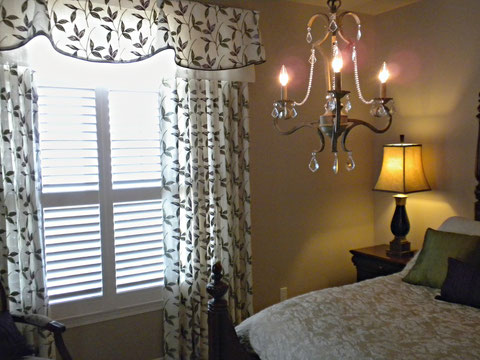 2. Is Privacy Your Biggest Concern?

All the above window treatments offer privacy, but in different degrees. Sheerweave roller blinds are private in the daytime but at night it reverses and people can see in. This may not matter in public rooms but it certainly does in a bedroom or bathroom. If you want both, you would need to layer this blind with drapery that offers further privacy when closed. I have a client who has sheerweave blinds in every south and west facing window and either a valance or a drapery over it depending on privacy concerns. This gives her the daytime light control that she desires without darkening the room and in the bedroom she has layered full drapery.
Plantation Shutters do offer excellent privacy control by simply tilting the vanes. By using a divider rail placed at the optimal height for your window, you can have privacy in the lower portion and have the top open for light. I have them in my kitchen window which is across from my neighbour's window. I like that I can tilt them according to the brightness of the sun and tilt also for privacy. On these cold winter nights they keep the room warmer by closing them tight! I used to have fabric on this window and I am much happier with shutters. I have clients that have them in every window for a beautiful, functional and uniform look. 
I have always loved drapery in certain rooms. My bedroom has a patio door covered by a single panel which is lined in a blackout fabric. As it faces the backyard and the woods behind I do not require daytime privacy and simply pulling the panel closed offers all the privacy and room darkening I need, as well as warmth in the winter.
 Isn't this a beautiful bedroom? It is not mine but it has similarities in colour scheme and the drapery is very similar. 
As you can see there are lots of options out there...and there are even more! Having worked in the window covering industry for so long, I have both the experience and expertise to help you out, both in the selection process and providing the finished product. I offer a variety of budget options and I am competitively priced. I take pride in offering great quality products, great service and great pricing. I have worked with my suppliers and my sewing workroom for 25 years and have a great working relationship with them. 
If you need help with your windows...call me! And don't forget to check out my sale on shutters and subscribe to my mailing list for blog updates in your inbox.