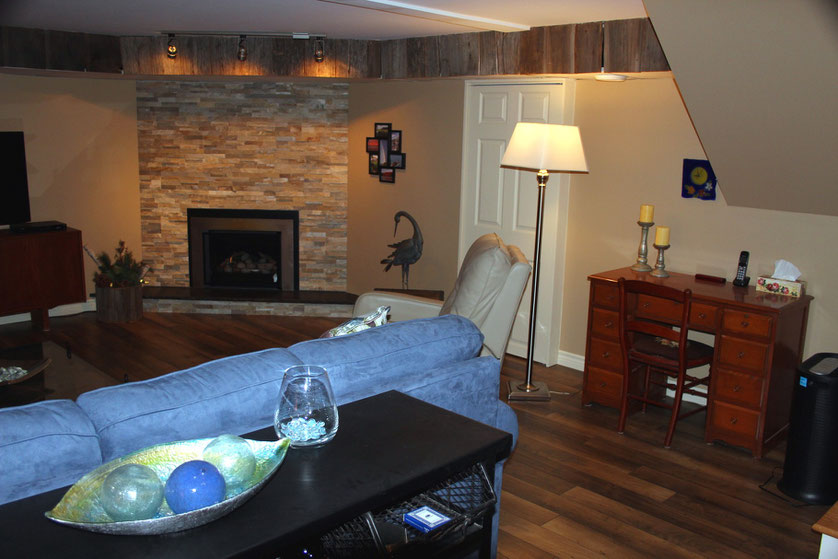 Sometimes clients come to me because they are stuck; they want a change but can't move forward.  I worked with one such couple from Brockville over a year ago. They had a dated basement rec room which they inherited when they bought the house. Nothing had been done since the 70's it would seem.
Why were they stuck? They had a lot of uncertainty because of the number of decisions that needed to be made and they did not always agree with each other. The husband, Bob, was really hoping for bolder colour rather than "boring beige".
 Joanne wanted to renovate this large space into a modern, attractive room that they could use and be proud of…the current space was rarely used. She was happy to please Bob's desire for colour, but nervous about how it would look.
I immediately agreed that it was a very nice large space and definitely deserved a makeover.  We agreed to keep most of the existing barnboard and improve on the lighting using track lights and dimmer switches.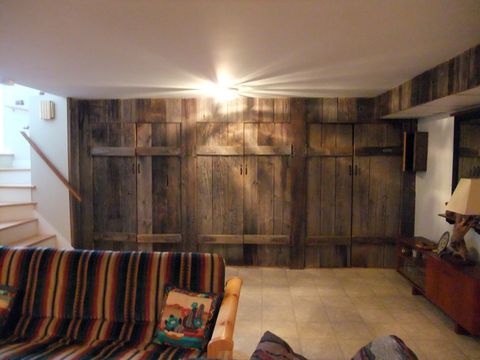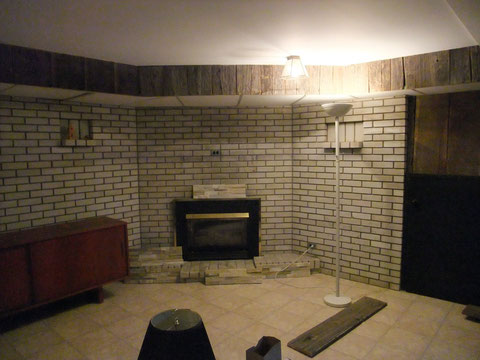 The fireplace was originally done in a style that did nothing for the room. It was in the corner with plain grey brick on 3 walls (kind of like a bay window with the fireplace in the middle.)
The vinyl floor needed redoing, plus new furniture and a more comfortable seating arrangement.
We decided to start on the fireplace and the walls. I recommended the look should be a mix of contemporary and rustic but I had to demonstrate what that meant. An experienced decorator needs to be able to do this because clients are often nervous because of expensive decorating mistakes in the past. We agreed to take down the "wings" of the fireplace and have one stone wall with a modern gas fireplace insert. The clients found that choosing the stone was a difficult decision. After a fair bit of research and comparing samples, we arrived at a modern stone that had some golden undertones and grey and beige…lovely! What really helped her with the decision was that she liked the golden sand wall colour that I chose to go with it. We were able to convince Bob that it was not too beige, that it would be a great background for rich colour in furniture and accessories.
Once or twice when discussions got a little tense between husband and wife I had to remind them that I did not have my counselling papers yet! That usually brings a smile and breaks the tension. Although sometimes challenging, creative options can emerge when people initially have differing opinions.
I was able to help by bringing all the samples together in the room and show them how they would relate to one another. Any one of them alone was just ok, nothing exciting, but together they really pop!
 We chose a rustic, hand-scraped style laminate floor. It is a good product for a basement and could be installed without removing the existing vinyl flooring. The style of the flooring complemented the rustic nature of the barnboard.
The fireplace, granite hearth and flooring were installed and looked great! The best furniture solution for the large room was a sectional…I wanted to place it like an L shaped island in the middle of the room, facing both the television and the fireplace. This was a stretch for them as they were accustomed to a couch against the wall. I helped them measure and mark out the furniture arrangement I was recommending and after a few days they agreed to look at a sectional. To satisfy their desire for colour I chose a solid blue fabric…that left lots of room to play with patterns in cushions and artwork.  The sectional (with pull-out bed) arrived with some patterned and solid green cushions. A comfy leather recliner was purchased to make a cozy reading spot.  Looking good!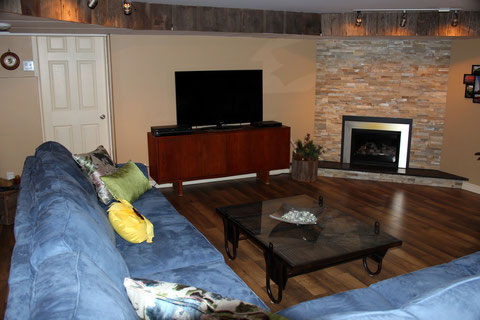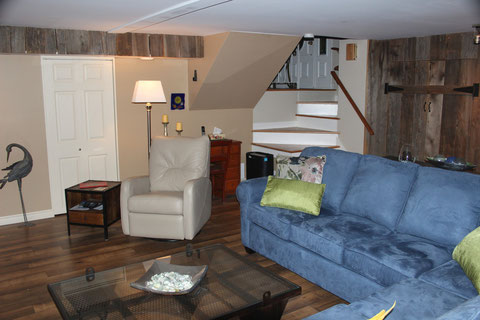 Beauty is in the details. The room needed a great coffee table in front of the huge sectional and a sofa table behind. After some deliberation, Bob and Joanne agreed to the purchase of unique industrial styled coffee table, sofa table and an end table. They loved it, and so did I!
But what to do with those huge walls? I wanted the space to be unique and personal to my clients. I suggested they frame some artwork from their travel adventures. The end result is striking. They used their trunk and driftwood lamp and framed a piece of Egyptian art. I showed them how to create a nice vignette. They had photographs from an African safari and I helped them choose an arrangement over the sectional for the pictures they had enlarged.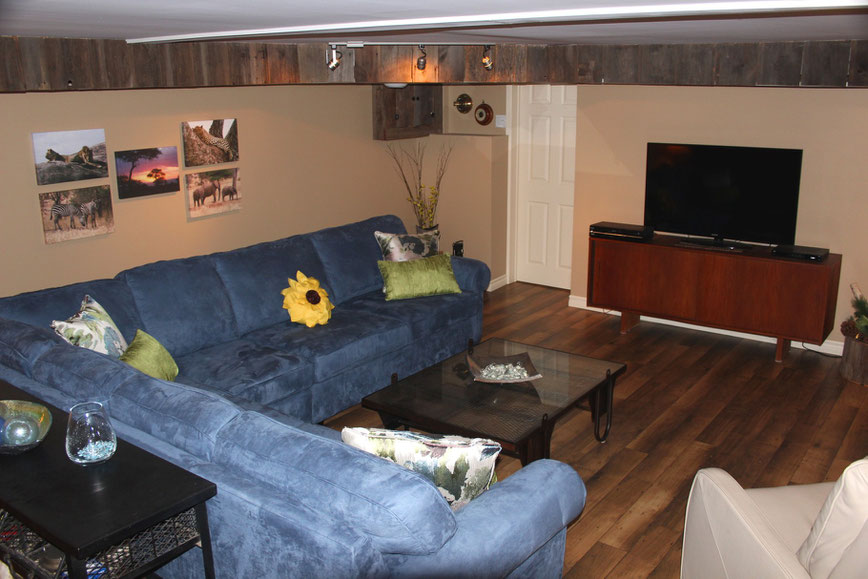 I suggested, and they found, a metal blue heron and some personal photographs of the waterfront to enhance a corner by the fireplace. Many of the accessories are items they already had.
This renovation took time but my clients continue to be thrilled with this room. It is a colourful, happy room and styled so they can feel comfortable entertaining or just watching television. It is unique to them, not out of a furniture store display.  I helped them get unstuck and gain some confidence in their decorating decisions. I was able to demonstrate why I was suggesting the colours and styles I was choosing.
Bob and Joanne had made some decorating mistakes in the past and know how disappointing they can be. They are smart enough to know that Ugly costs as much as Pretty! They grew to trust me through this renovation and have since called me back to help them with a new project. I LOVE to make clients happy!
This was a large project but sometimes small things, like choosing the right paint colour will fix the problem in a room. Often a client needs expert advice, be it which window covering suits their needs best, or which backsplash to choose for their kitchen. Sometimes you just need a PLAN…it can be worked at gradually, but save you time and money in the long run.
If you'd like Something Unique's latest blog delivered straight to your inbox, subscribe here.